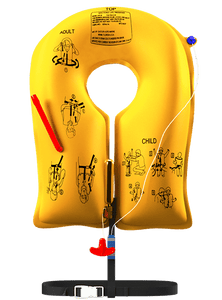 Single-Cell Life Vest: EAM UXF-35 Series - P/N P01202-101 - Passenger (Commercial) - Stock Sale
Eastern Aero Marine
We have 1 in stock.
Regular price $57.11 $54.00 Sale
Single-Cell Life Vest: EAM UXF-35 Series (TSO-C13f) - Passenger Yellow
P/N P01202-101 - Standard Lead Time: 5-7 days

**Special in stock item - valid while quantities last.  For batch orders, please see here.

This single cell vest is the lightest weight aviation vest in the world, weighing only 0.9 lbs (408 grams). 5 year frequency of inspection standard.  Please note that all life vests can be inspected and O/H at Tulmar.  To contact our R&O, email mro@tulmar.com or call 613.632.1282.
SPECIFICATIONS
Inflated Buoyancy: 35 lbs. (156 Newtons) minimum

Inflated Volume: 970 cu. in. (16 liters) minimum

Inflation System: Manual CO₂ Inflator and an Oral Inflation Tube

Color: Passenger Yellow

Service Life: Indefinite if unit continues to pass periodic maintenance inspection

Frequency of Inspection: 5 years
Dimensions: 7.9L x 5.5W x 2.25H
Packed in Polybag
Adult / child
APPROVALS
USA: FAA TSO-C13f, Type I

UK: CAA BCAR B4-8

Europe: EASA ETSO C13f, Type I

Italy: ENAC

Brazil: ANAC RBAC 21

Japan: JCAB CARJ Article 152
Shipping fees are calculated during checkout.
To order more than 25 vests, contact aviation@tulmar.com.
To learn more about Tulmar Safety Systems, please visit us at www.tulmar.com.