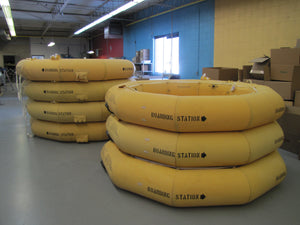 4-6 person Life Raft - EAM P/N R0102A105RB10 - Used
Tulmar Safety Systems
We have 16 in stock.
Regular price $5,000.00 $4,000.00 Sale
We are selling our inventory of used EAM (Eastern Aero Marine) Life Raft systems.  These come in good condition and are re-inspected / certified prior to shipping to the customer.  You can expect a 2 to 4 weeks lead time on all purchases.
All rafts come equipped with a SRB406 ELT and standard survival kit (FAR 121) and standard canopy.
If you have any question, please contact aviation@tulmar.com.
Please note that the shipping option is only for customers in the Ottawa - Montreal area (within 125km of Hawkesbury, ON). 
If you are using your own carrier account, please include the account number in the notes section, or order via the quote system here.