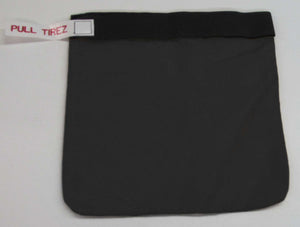 Re-usable Pouch for Scott-Avox Style PBE - P/N 6444-104
Tulmar Safety Systems Inc.
This product is available.
Regular price $77.02 Sale
Type 3 Training PBE Re-usable Pouch
P/N 6444-104 Unit
**To order more than 5 re-usable pouches, contact aviation@tulmar.com.
Re-usable pouches for training protective breathing equipment (PBE) allows the user to add a layer to training by incorporating the experience of opening the PBE and removing it from its individual packaging.  The pouch is design for the motion to replicate that used to open the packaging of PBE units aboard aircrafts.
FEATURES
Realistic: Replicates the motion of opening the PBE's individual packaging.
Easy to Use: Simulated opening motion easy to reset with the use of velcro.
Durable: Robust materials withstand the repetitive use of training.
Washable: Textile portion of the product washable in a conventional machine.
TRAINING PBE
This accessory is manufactured to complement the Type 3 Scott-Avox Training PBE.
To order more than 10 re-usable pouches, contact aviation@tulmar.com.
To learn more about Tulmar Safety Systems, please visit us at www.tulmar.com.